#413
August 31, 2018
Attempted Robbery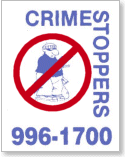 Friday August 31, 2018 at approx. 5:57 a.m. The Mitchell Department of Public Safety received a report of an attempted armed robbery that occurred at Wells Fargo automatic teller machine located at 403 N. Lawler St. in Mitchell, S.D. During this incident, it appears that a male subject on foot, approached a person who was inside a vehicle near the A.T.M. The suspect walked from the South and approached the person in the vehicle. The suspect demanded money and threatened the person in the vehicle with a handgun. The suspect than ran away to the North along the alleyway, and ran to 5th Avenue. The suspect then ran to the West (toward Main Street) after he got to 5th Avenue. At this time, it is not known where the suspect went after that.

The suspect was described as a male, approx. 5' 9" tall, slender to medium build with dark skin, who was wearing a white, yellow or cream colored long sleeved shirt with a "Tribal diagram" on the back of the shirt, black pants and a pull over type ski mask and black shoes. suspect was reported to have been armed with what appears to be a black, small caliber handgun. Nobody was injured during this incident. No money or other property was taken from the victim during this incident. suspect was described as having a distinct "Puerto Rican" accent.
If you have information in relation to this incident, or if you have information regarding suspicious activity in this area at this time, or information relating to any other crime, please call Crime Stoppers at 996-1700. Remember that you do not have to identify yourself, and a CASH REWARD is available if it leads to the arrest of the subject or subjects involved. There are no caller ID's attached to this phone line, so you will remain anonymous. To submit a mobile tip, please download the free "P3 Tips" app from the Google Play store or Apple Store. If you do not wish to download the app, you may still submit a mobile tip from any web-enabled device by going to www.p3tips.com.
Upon receipt of a tipster's first incoming message the system will auto-reply with a confirmation containing the tipster's unique tip ID. Anonymous two way communication can then occur between the tipster and Investigators. You can also go to www.mitchellcrimestoppers.org to submit a crime tip by e-mail.
Information received through CRIME STOPPERS remains totally anonymous. Tipsters who provide information to Crime Stoppers that leads to an arrest(s) will be given a CASH REWARD.
A minimum of $250 is paid for rewards on all "Crime of the Weeks" solved through Crime Stoppers. Mitchell Area Crime Stoppers, Inc offers this reward. Rewards will not be paid if crime tips, leading to an arrest, are not made directly to Mitchell Area Crime Stoppers, Inc. by telephone or by web tip.
To date 350 crimes have been solved through information from Crime Stoppers.
A minimum of $250 is paid for rewards on all
"Crime of the Week"
solved through Crime Stoppers.
THE CRIME STOPPERS PHONE NUMBER IS ALSO IN THE TELEPHONE BOOK.
---
Please e-mail your comments and suggestions about the
Mitchell Area Crime Stoppers page to Dean
 
---


The Mitchell Area Crime Stoppers website is sponsored
by Santel Communications